The Most Famous "Characters" of Sunderland- Who Do you Recognize?
Sunderland is a city known for its tight-knit and humble community spirit, and unsurprisingly has more than its fair share of local eccentrics who stand out as icons of the area, be it for good or bad. Here, we take you through these "characters" of Sunderland, these standout legendary figures who are well known throughout the area for their antics, both past and present!
Let's start off with the most obvious. Dave Common from Pennywell, who goes by "Dave the Rave" is everyone's favourite dancer and raver who can regularly be seen throughout Sunderland City Centre dancing away and singing praises to Jesus. Beyond his act, Dave is known as a friendly, down to earth and approachable individual who's good for a chat. Sometimes he can be spotted in the library.
Brian Moore, nicknamed "The Spectre" was a painter who was known for dressing up as an elaborate Victorian gentleman and then going out on the Sunderland nightclub scene! He was also beloved as a very friendly man. Unfortunately, Brian passed away in 2016 at the age of 77, but perhaps his ghost as a real "spectre" may be seen around the bars for years to come…
Gordon Simpson, known otherwise as "Goya" was a legend of Thorney Close known throughout the city for decades. Famous for his eccentric, spritey personality, signature hat and long walks, armed with the catchphrase "Garn to Seaburn!"- Goya dressed in flairs in the 1970s and went around closing every gate on Thorney back in the day. Unfortunately, in early 2018 Gordon died of a heart attack in front of a Greggs in the city centre.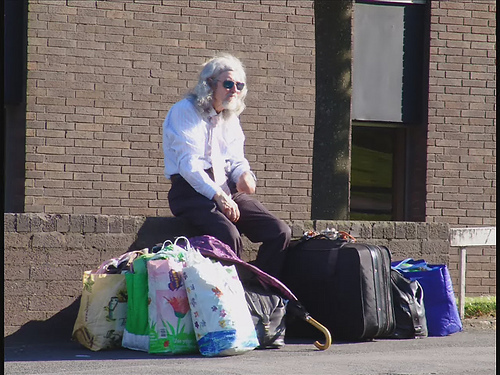 For most of the 2010s, a character known as "The Sunderland Bag Man" was regularly seen around the city centre. His real name being Ernest and a former college lecturer, his nickname obviously nodded to the fact he carried with him a series of large bags which constituted everything he owned, as he was temporarily homeless. Usually seen outside of the railway station, he did his best to keep himself clean, tidy and presentable despite his situation. He now lives in either the Astral or Solar House flat above the Bridges.
"The Gadgie"
New to the group, "The Gadgie" is an old man with a crooked back who gained notoriety in a video of Dave the Rave, merely by walking past, in September 2020 and sent the clip viral. It is unknown what his actual name is, but he was compared unfavourably to vast number of film characters. A ghost character inspired by him is set to appear in our epic series "The North Star" very soon!
Ernie Bewick is famous around Sunderland for a litany of reasons, we don't need to go into detail about all of them. To put it mildly, he's Sunderland's best known "hard man" who has run security around bars for sometime years. Despite his colourful record which has landed him behind bars before, Ernie is nonetheless a humble, well meaning and kind person who will help anyone and holds a great deal of local respect.
Shane the Cowboy lived on both Town End Farm and Farringdon donning a pistol and sometimes a guitar, where he drew mixed reactions ranging from funny to creepy! It is unclear whether he is still around now, having been seen in a Wheelchair a few years back.